Computer Repair in Surrey, BC
12969 58a Ave, Surrey, BC V3X 0C6, Canada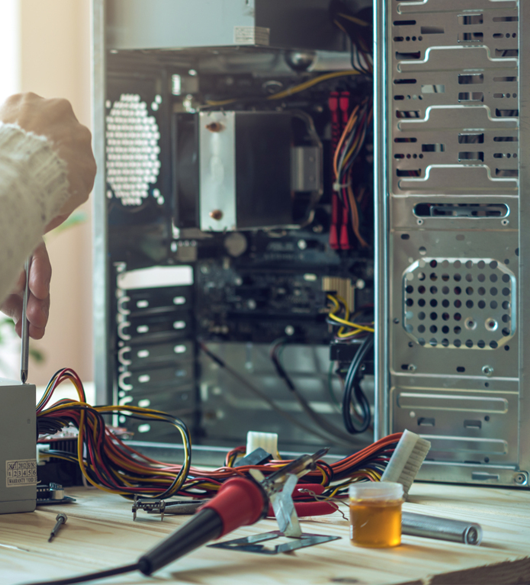 Computer Repair in Surrey, BC
Wide Range of Computer Services 
ifixtech offers an impressive range of services that can help with any kind of computer problem you might be having. We can repair both hardware and software issues, whether it's fixing a faulty motherboard or cleaning viruses off your hard drive. We also offer upgrades and installations so that your machine can keep up with the latest technology. 
All-in-One Service Center 
What sets ifixtech apart is not just the quality of their services but also the convenience factor we provide. All repairs are done in-house by certified technicians who are familiar with all kinds of hardware and software problems. And because everything is done in one place, there's no need to run around town trying to find different parts or waiting for various stores to open up before getting your computer fixed. 
Excellent Customer Support 
In addition to providing excellent computer  repair Surrey, BC, we at ifixtech also pride ourselves on our customer support team which is always ready to answer any questions or concerns you may have about your device or its repairs. Our technicians are friendly and knowledgeable, so they can provide helpful advice even before you bring in your machine for repairs – this way, you know exactly what kind of service you need before ever stepping foot in the store! 
 Computer Repair in Surrey, BC
Computer Screen Repair at ifixtech 
At ifixtech, we specialize in laptop screen replacement and repair services for desktop computers. If you have cracked or broken laptop or monitor screens, our team is adept at replacing them quickly and cost-effectively. Our experience includes working with all major brand laptops—Dell, Lenovo, HP—as well as Apple products such as iMacs and Macbooks. We understand that time is money so we always strive to complete our work efficiently without sacrificing quality.  
Computer Diagnosis and Repair 
When it comes to computer diagnosis and repair services, ifixtech has it covered. With over 10 years of experience in tech support services, our team has the knowledge to diagnose any issue on any device promptly and accurately. Our diagnosis process includes testing for hardware issues such as faulty motherboards or memory modules as well as assessing software problems like virus infections or corrupted files. 
Computer Motherboard Repair 
If you are experiencing motherboard issues such as random shut downs or booting errors then bring your device to us at ifixtech so that we can diagnose whether there is an issue with your motherboard components or other hardware settings. Our expertise covers all major brands of laptops such as Dell, HP Compaq, Gateway, Acer and more! 
What Else You can Avail?
Beside the best iPhone repairs in the area, we also offer top-notch services for other smart gadgets repair services. You can contact us for:
Phones
Tablets
PC repair
And you can also reach us out if you want to:
And more…
And more…
What type of computer repair Surrey, BC do you fix?
iFixtechs are among the best computer repair in Surrey, BC. We offer the best pc repair services in the town. Our repairs techs can fix any desktop system, whether you need a mac repair or any desktop repair, we got you all covered.
What computer repairs do you offer?
If you're in need of computer repair service in Surrey, look no further than iFixTechs. Our expert technicians are here to help you out by getting your pc back up and running again. We fix anything from cracked screen repair to software troubleshoot.
How long does it take to computer repair Surrey, BC?
We offer top-quality pc repairs at iFixTechs. We understand how much your machine is important to you. Therefore, we won't let you wait long by fixing the gadget as quick as possible.